What you get
17 Shadow sensors

Wireless controller

All wearables

Storage and transport case

One year warranty

Online training session

Free software updates

Excellent technical support
Designed for production
High-quality construction
Your durable wearable components are ergonomic and built to withstand daily production use.
Excellent support
We want you to succeed and are here to help. Contact our capable team by phone, email, and video call.
Protect your investment
Your Shadow mocap suit comes with a one-year warranty. Purchase Preferred Care to extend your coverage and expedite shipping on all warranty service.
Designed and manufactured in the USA
Shadow is made with care using only the highest quality miniature inertial sensors.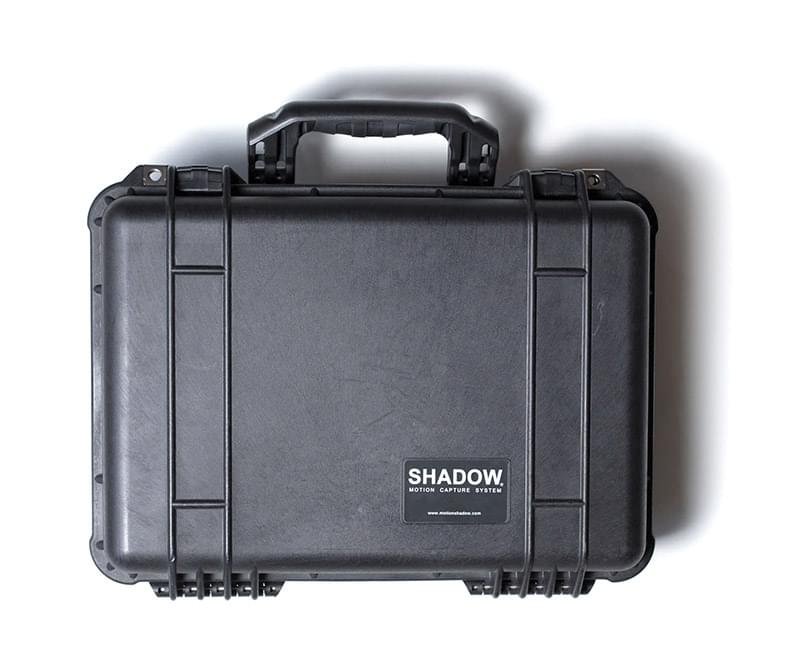 Technical data
Sensors
17 precision inertial measurement units
3-axis accelerometer, gyroscope, and magnetometer
2 pairs pressure insoles
Sample rate
100, 200, or 400 Hz output data rate
1000 Hz internal update rate
Orientation
Drift free, 3D rotation
0.5° static accuracy
2° dynamic accuracy
Size
33 x 18 x 6 mm miniature sensors

Weight
1.2 kg (2.6 lbs) wearable
1.6 kg (3.5 lbs) packed for travel
Battery
8 hours
10 Ah capacity
Wireless
Wi-Fi 5 (802.11ac)
Indoor Range 32 m (105 ft)
Outdoor Range 95 m (310 ft)
Controller
8 GB storage
Status LED
Latency
20 ms wireless (Wi-Fi)
5 ms wired (USB)
Sensor specs
Your Shadow system includes 17 precision inertial measurement units.
Each sensor module takes high speed measurements to capture your movement and pose.
Your measurements are synced and collected every 10 milliseconds by the wireless controller and streamed back to your device.
| | Range | Resolution |
| --- | --- | --- |
| Accelerometer | ±8 g | 0.18 mg |
| Gyroscope | ±4000 °/s | 0.12 °/s |
| Magnetometer | ±8 gauss | 0.25 mG |
Requirements
Operating System
Works on Windows, macOS, Linux, iOS, Android
Connectivity
Requires Wi-Fi 5 (802.11ac) or a USB Standard-A port
Internet access
Recommended for setup and to download free updates
Trust our proven solution
Field tested by the best and brightest in companies, research labs, and academic institutions.